John Nuken Benefit
Posted Apr 26, 2013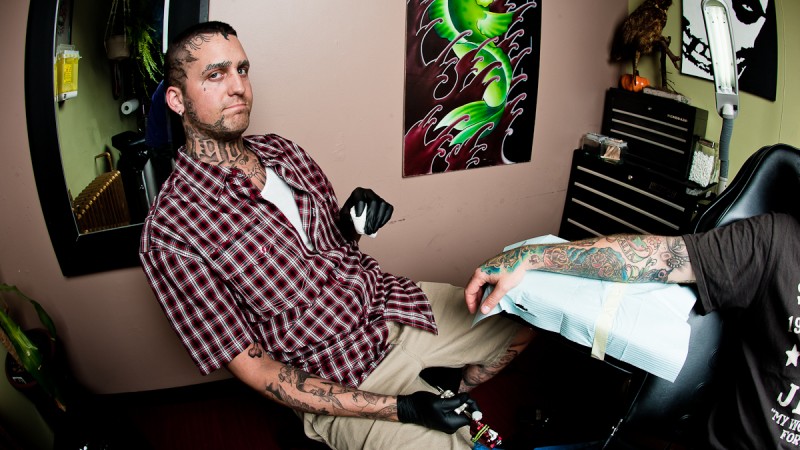 All tattoos on June 1st will be in honour of John Nukem, all tattoos will be pre drawn flash based on designs that John liked and enjoyed tattooing. We will be offering these tattoos at $40 (cash only). Persons must be at least 18 years of age, all tattoo clients must bring valid photo I.D.
1 tattoo per client. Absolutely no modification or alteration permitted. Clients are welcomed but not required to donate more for their tattoo, ALL proceeds will be in Johns benefit we will not accept any ourselves.
Lineup order will be self regulated, all persons in line are required to hold their spot, if anyone wishes to leave the line for a break and return, we ask that their spot is honoured. Absolutely no line jumping is permitted, anyone caught jumping the line will be refused service.
We reserve the right to refuse service to anyone for any reason, so please be respectful of our wishes and each other. This is a day to honour our friend by giving friends and the public a chance to get a tattoo and help his family at the same time.
We at Oceanic Art realize the use of certain imagery, such as inverted crosses and "the number of the beast" may offend some people. Please be advised this is not our intention. John Newcombe was fascinated by horror movies, the occult and religious artwork. He borrowed many symbols for his own personal artistic expression, much like any other artists may use symbolism to invoke emotion. Please know that this does not in any way represent John's – or the rest of our team members' – spiritual and religious beliefs. We have decided to honour our friend, John, for who he was and the art he loved. We are simply honouring our fallen friend as he would have wanted. Oceanic Art apologizes if anyone has taken offence to our tribute to John.